ST. AUGUSTINE'S COLLEGE OF EDUCATION
(Affiliated to the University of Ibadan)
Akoka, Yaba, Lagos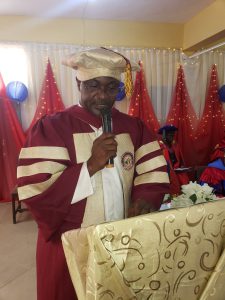 ADDRESS OF THE ACTING PROVOST ON THE OCCASION OF THE 24TH CONVOCATION CEREMONY OF THE COLLEGE ON
THURSDAY, 16TH DECEMBER, 2021
His Grace, Most Rev. Dr. Alfred Adewale Martins, the Archbishop of the Metropolitan See of Lagos and the Proprietor of St. Augustine's College of Education represented by the Vicar General, Right Rev. Msgr. John Aniagwu;
The Director of Education, Archdiocese of Lagos, Msgr. J.G. Oduntan;
The Chairman, Governing Council, Professor C. C. Opara:
Other Distinguished Members of the Governing Council;
The Registrar, Joint Admission Matriculation Board;
The Executive Secretary of the National Commission for Colleges of Education;
The Registrar and Chief Executive Officer, Teachers Registration Council of Nigeria;
Provosts and Registrars of Sister Tertiary Institutions;
Principal Officers of the College;
All Parents of our Graduating Students;
All Other Parents and Guardians present;
Directors of Programmes;
Gentlemen of the Press;
Deans of Schools, Heads of Departments and Units;
Other Officers and Staff of the College;
Other Officers of the Teachers Registration Council of Nigeria;
Monsignors here present;
All Very Rev. Frs., and Rev. Srs;
My Dear Graduating Students;
Distinguished Ladies and Gentlemen.
It is with utmost joy that I welcome you all to this great occasion of the 24th Convocation Ceremony of our great institution on behalf of the entire community of St. Augustine's College of Education. We thank God for this wonderful day He has made. We rejoice and are glad in Him for His love and His faithfulness. He has been our help in the past and our only hope for the future.
Graduation is a combination of hard work and sacrifice from different groups of persons which include the graduands, parents, sponsors and staff of the institution. It is a special moment for members of the College community to celebrate with gratitude to God these new graduands who are going to be new entrepreneurs, potential employers, employees and talents as they are ushered into the Nigerian economy.
I rejoice with the graduating classes and with every parent/guardian whose child/ward is graduating today. It is truly an event worth celebrating because God kept you all from the time of matriculation to this day. I must commend every parent/guardian here who, despite the current economic situation in the country, made huge sacrifices by paying fees and other levies for your children. I pray that these sacrifices will not go unrewarded by God and your children.
It is also a joyous celebration for St. Augustine's College that is yet again releasing another batch of qualified educators into the Nigerian society and the world. This is so because at St. Augustine's College, our vision is to enhance the quality of teachers for sustainable national development through focused dynamic and adaptable Teacher Education Programmes with a mission to produce specialist teachers for the total development of the youths at all levels of the nation's educational system.
The world right now needs credible teachers who actually have the interest of their students as a priority and make sure that all they do is students' centred. The teachers we need must effect total CHANGE in the life and mentality of their students: teachers who offer integrative education and academic mentoring; teachers who champion relationships among students from different intercultural backgrounds while enabling students to explore equity and diversity in a setting that is socially engaging and academically rigorous; teachers who also encourage personal and social responsibility by creating opportunities for students to share their learning with the community and to make meaningful contributions to the places where they live. We are very confident that you all have been raised as such teachers and leaders, who having been found worthy in character, in learning, and as effective disciples of Christ, will CHANGE Nigeria and the world for the better. The old style of teaching has failed, the situation is chaotic and the hunt for credible teachers is on. Having been well equipped with the training we provided for you here, we implore you to go out there and be the hope of our country in particular and the world in general.
ACHIEVEMENTS
At St. Augustine's College, students are assured of graduating at the stipulated time. We have students for the Nigeria Certificate of Education. All our degree programmes are accredited by the National Universities Commission (NUC) in affiliation with the University of Ibadan. Also, we award certificate in Professional Diploma in Education (PDE) in affiliation with the Teachers Registration Council of Nigeria (TRCN).
We give thanks to the Almighty God for the journey so far. With the support from the Proprietor of the College, Parishes in the Archdiocese, well-meaning individuals, the management, staff and students, some degree of success have been achieved.
Face lift of the College
The College has got a new look starting from the frontage of the College gate to the buildings in the College. Through this, the College has gained more publicity and has drawn more attention in the community.
College Website
The College now has a working website www.staugustinecollege.edu.ng which has been running for ten months now. All information about the College, Events and News of the College are being posted on the website. Individuals who wish to enrol into our College for any of our programmes can apply online via our website.
Newly offered Courses
The College will now offer the following courses:
Physics
Chemistry
Biology
Computer Science
Mathematics and
Early Childhood Education for both Degree and NCE programmes.
Hostel Facility
Our students' hostel facility has been renovated and it is more functional. The hostel is well equipped with free gas for cooking, generator and common room with a television that has a cable attached to it.
The Alumni
The College now has a vibrant Alumni association which also has a Board of Executive to take charge of all Alumni activities in the College
The 2021 Graduating Students
This year, we are graduating 272 students – comprising 28 NCE, 36 Catechists, 142 degrees and 66 Post graduate diploma. This is further broken down into these classes;
Degree
10 First Class
46 Second Class (Upper Division)
76 Second Class (Lower Division)
10 Third Class
NCE
2 Distinction
9 Credit
12 Merit
Catechesis
2 Distinction
11 Credit
2 Merit
PDE
13 Distinction
30 Credit
23 Merit
OUR ROLE IN THE COVID-19 WORLD
I believe that the issue of Covid-19 will be a defining one for our graduands and all of us seated here today as we make it a point of duty to get vaccinated.
Just recently, the College brought in health officials from the Local Government to vaccinate our staff, students and members of the College Community.   The risk of not getting vaccinated, as we all know, has been said to be high coupled with the fact that a new variant of the virus called OMICRON has just been discovered. We are all encouraged to ensure that we visit any health centre near us to get vaccinated. It is not just enough to know, let us also do the needful and also enlighten others around us.
APPRECIATION
Our ultimate thanks go to God Almighty who has continually sustained this College for over 50 years. On behalf of the Management, I wholeheartedly thank the Archbishop of Lagos, Most Rev. Dr. Alfred Adewale Martins for his financial support and fatherly words of encouragement. I appreciate and thank Right Rev. Msgr. John Aniagwu for representing the Archbishop and for being one of the founding fathers of this College. The Director of Education, Archdiocese of Lagos, Msgr. J.G. Oduntan who is also a member of the Governing Council deserves our commendation for his efforts and commitment to the College. We are indeed grateful to the Chairperson of the Governing Council, Professor Opara and the esteemed members of Council, the Executive Secretary of the National Commission for Colleges of Education, the Registrar and Chief Executive Officer, Teachers Registration Council of Nigeria. I thank all the Provosts and Registrars of our sister Tertiary Institutions who have identified with us here today. My special thanks go to all our friends, well-wishers and distinguished guests who have found the time to grace this occasion. I thank you all for honouring our invitation. I thank the Ceremonials Committee, headed by Dr. Ikejiaku for a job well done. I also thank the College Staff; Your selfless service and dedication to the College will constantly be recognized and rewarded. I also appreciate the past, present and future donors to our college projects.
To the graduands, perhaps you have been told that going to an institution of higher learning will help you discover who you are; so you have come here with the goal of finding yourself.  That is not a bad idea but I will also suggest a more potent possibility.  Enlightenment and fulfilment come not only when you find yourself but more importantly when your life seems to dissolve into a task that is profoundly worth the effort.  You are now fellow professional teachers.  As you join the workforce, remember to make a meaningful impact wherever you find yourself.  Shun all evil practices and do not fail to be worthy ambassadors of this noble College which is widely known for raising qualitative and professional teachers with moral uprightness and integrity.
Thank you for listening.
Rev. Fr. Vincent Olofinkua Ph.D
Ag. Provost
Thursday 16th December, 2021
PHOTO SPLASH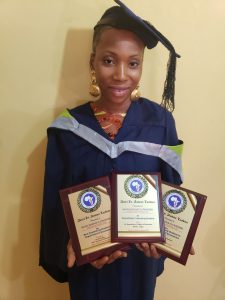 BEST GRADUATING STUDENT 2018/2019 SET.
MASHA MARAYAM OLUWAYEMISI from the Department of ECONOMICS 
Awards given are;
Best Graduating Student in the Department of Economics by H.O.U Mr. Ojo David
Best Graduating Student in Department of Economics by H.O.D. Dr. Fabode Sunday
Over all Best Graduating Student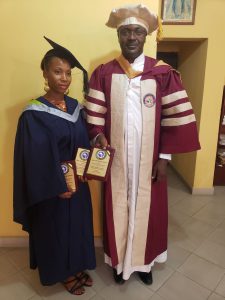 Overall Graduating Student with the Provost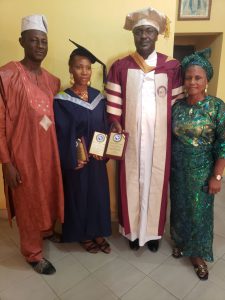 Overall Graduating Student with her Parents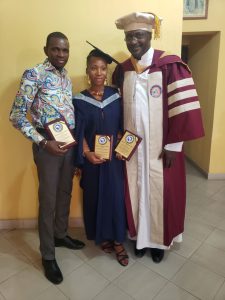 Overall Graduating Student, Provost and her H.O.U. Mr. Ojo David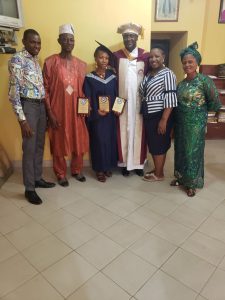 Overall Graduating Student, her Parents, Provost, Mr. Ojo and the Registrar; Mrs Mary O. Aipoh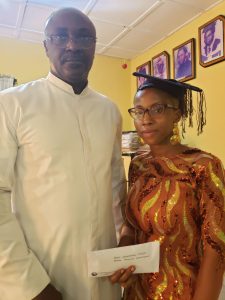 Cash Prize of Fifty Thousand Naira [N50,000] from the Provost of the College to the Overall Graduating Student.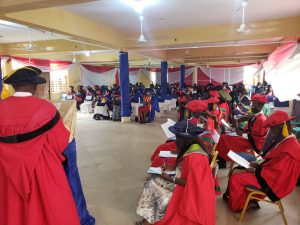 The Priopritors speech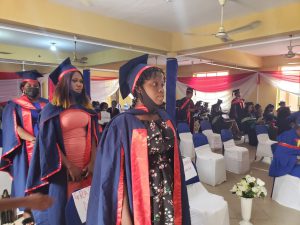 The NCE Graduands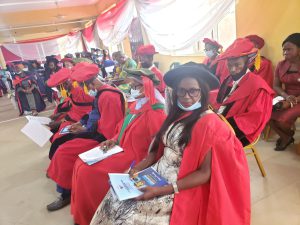 The Academic Staff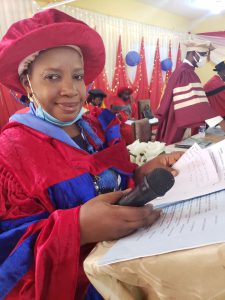 The Acting Registrar of the College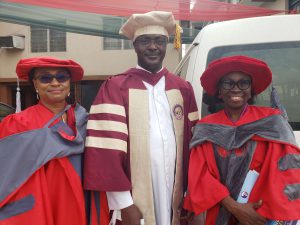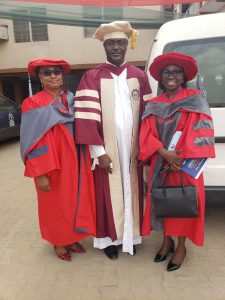 The Registrar and Provost of Corona College of Education with the Acting Provost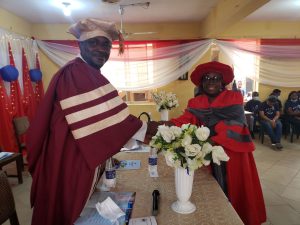 The Provost of Corona College of Education presenting an award to the Provost of the College.