PROFILE OF ALOYIUS MADUAKA EJIOGU
(Provost, St. Augustine's College of Education, Akoka)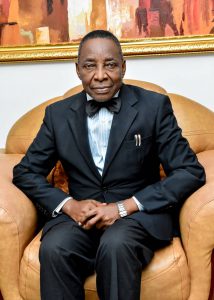 Aloysius Maduka Ejiogu is a Professor of Management Education with specialization in Human Resource Management. Educated at various times in Nigeria, UK and United States, his academic career cuts across many disciplines including: English and Literature Studies; Education Planning and Administration; Advanced Research Methods; Entrepreneurship Education; Sociology Organization Behavior and Human Resource Management. His academic degrees include: B.A. Hons. (English and Education), M.A. (O & M), M.Ed. (Admin), M.Sc. and Ph.D. (Management). He is a member of so many professional organizations including but not limited to: British Academy of Management; Fellow Chartered Institute of Administration; Fellow Nigerian Academy of Education; Fellow, Nigeria Institute of Security; Fellow Nigerian Institute of Educational Administration and Planning; and member Commonwealth Council of Educational Administration and Planning; A Chartered Administrator, England and Wales.
A man of many waters, Professor Ejiogu has 24 books as well as 112 articles published in scholarly and professional journals of international repute, besides over 105 conference papers. His human products currently include three (3) vice-chancellors, two (2) rectors and three (3) provosts, from a pool of over 30 Ph.D. degree holders who he supervised/mentored.
An erudite and a never-say-die administrator, professor Aloysius Ejiogu has had a wide and impactful experience in academic and public governance, including: three term tenure as State Government Commissioner/ Minister; Director-General for National orientation in Nigeria; Chairman of Govt. Budget Implementation Monitoring Committee; Chairman, Airport Building Committee in Nigeria; President Rotary Club of Tin-Con Island; Chairman, Presidential Visitation Panel to over five Federal Universities over a period of ten years.
Chairman, University of Lagos Endowment Fund Management Board; Best Faculty Researcher Award; and chairman University of Lagos, Professor Aloysius Ejiogu has too many honors and awards that time would not be enough to read out.
Suffice it to state that he is today a proud recipient of the University of Lagos Diamond Jubilee Outstanding Alumnus Merit Award; and The Provost, St. Augustine's College of Education.
Professor Aloysius Ejiogu is happily married with highly responsible children.